---
5

out of

5

based on

25

reviews.

Overall rating:
---

---
Registration and Payment
Register and Pay for Fusion Online Training
Total Fees INR 18,000/- (See Payment Schedule below)
Suitable for people who already know Oracle eBusiness Suite R12 Financials
How to Register and Pay for Training
Click "Add to Cart"
Click "View Cart"
Proceed to Checkout (Apply Coupon OFSNEBIRD for INR 1000/- discount if Paying On/Before 20-Jul-19)
---
Fusion Financials Training – Aug-2019
Transition your skills rapidly from EBS R12 to FUSION (Oracle Financials Cloud)
Fusion Financials Crash Course in 3 Weekends
8 Hours each Week End X 3 Week Ends = 24 Hours
Release 12 and Release 13 (Oracle Fusion Cloud / Oracle Financials Cloud)
Best suited for EBS R12 Consultants seeking immediate knowledge transition to Fusion Financials
Demonstrated Fundamentals on Fusion Instance
Fusion Cloud Release 12/13 Instance given to participants for Hands On as part of course (From First Day to Last Day of Training). Additional 3 Month Access can be procured separately.
Participants can attend missed session (due to participant inability to attend any session), in subsequent batches also.
(Step by Step Training to Fusion Setups and Transaction Flows with Actually executed examples on Fusion Instance)
Training Summary & All Links
Dates and Timings (USA/Canada/India/Europe Friendly)
Aug 2019 ( 03/04-Aug, 10/11-Aug, 17/18-Aug )
3 Week Ends X 8 Hours Per Week End = 24 Hours
Fees and Payment Schedule
Total Cost: INR 18,000/- Per Participant
Register and Pay to Reserve your Seat
Pay the Amount as per Following Schedule
INR 18,000/- On/Before 31-Jul-19 (Apply Coupon OFSNEBIRD for INR 1000/- discount if Paying On/Before 20-Jul-19)
For USD Payments on PayPal.com, Please pay USD 300/- if paying On/Before 20-Jul-19 (Else Pay USD 315/-)
---

---
Content Summary
Fusion General Ledger Fundamentals
Fusion Payables Fundamentals
Fusion Receivables Fundamentals
Fusion Assets Fundamentals
Fusion Cash Management Fundamentals
Fusion Hyperion Reporting Studio Fundamentals
Fusion Hyperion Smartview Fundamentals
Fusion FBDI – File Based Data Import – Fundamentals
Fusion OTBI – Oracle Transactional Business Intelligence – Fundamentals
Fusion ADF-DI – Application Developer Foundation – Desktop Integrator – Fundamentals
Training Batch Brochure
Download Training Batch Brochure
Chapters/Topics Covered in Training
Download Chapters/Topics covered in Training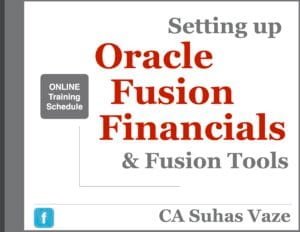 ---
---
---
Write a Review (Fusion Online Training)
(Scroll down to see existing Reviews)
---
Reviews and Ratings (Fusion Online Training)
5

out of

5

based on

25

reviews.

Overall rating:
Suhas Good Instructor
★★★★★
"
I have attended the training recently. M.Suhas was a very good instructor, knowledgeable and available to answer all the questions asked by the students. The training material was very well structured. The only issue is access to the Oracle Fusion instances for hands on Labs. The instances are very often down and we couldn't complete our exercises. Thank you Suhas for all the knowledge your provide us. I recommend him for attending these courses.
"
- SID Mohd (Montreal, CANADA)
"
The training program is well designed and very effective for those, who have already worked on prior release of EBS. Important changes in Fusion are related to navigation, security and tools, which are well covered in training. AR, AP, FA functionality are almost same. New tools set for reporting analysis are covered well.
"
- Yogesh Bagga (Pennsylvania, USA)
"
I took the training the Fusion financials training. His classes are very organized. His grasp on the topics is very detail. His goal of making sure we understand and getting constant frequently is much appreciated . He focuses on the topic in hand very deftly and is well prepared with videos thus you can never derail and was worth the time. Ace tutor and ERP person.
"
Oracle Fusion Training
★★★★★
"
best Oracle Training ever!! This is exactly the training you need to get up to speed on Oracle Fusion. If your background is in Oracle EBS and you want to migrate to Oracle Fusion then take the course, buy the books and sign up for the 3 month Oracle Fusion Access. You will not regret it. It will help you build the baseline you need to migrate to Fusion and if you are migrating from Peoplesoft do not get discouraged that Oracle Fusion will be too big a hurdle as he has laid out the course in a very easy to learn format for you to be a success Alan Bain
"
- Alan Bain (Washington, USA)
Oracle financial cloud
★★★★★
"
This is the excelente and it content all the fusion financials of AP, AR, GL, FA, CM, FRS and All the financials Reporting
"
Oracle financial cloud
★★★★★
"
This is the excellent training. It contains Oracle Fusion Financials Cloud. GL, AP, AR, FA, CM, and Fusion Tools FBDI, ADF-DI, OTBI, Hyperion Reporting Studio and Hyperion Smartview.
"
"
This training helped me in understanding the basic fundamentals and navigation path of Oracle Fusion Financials application. Trainer Suhas has in-depth knowledge of Oracle Fusion application and assisted me in every step of training course. I would definitely recommend this training for an individual who would like to pursue career in Oracle fusion. Thanks Again!
"
- Raja Dharma (Pennsylvania, USA)
Hands on demo of Oracle Cloud Financials Fundamentals
★★★★★
"
Suhas is excellent instructor and demonstrated all the details of the Oracle Cloud Financials Fundamentals and new features especially comparing and contrasting with Oracle EBS Financials. I highly recommend to all the aspirants,who are transitioning their Functional skills from Oracle EBS to Oracle Cloud Financials. Thanks Suhas and Support Team at OracleErpGuide.com Regards - Vijaya Godugu
"
- VIJAYA K GODUGU (Pennsylvania, USA)
Good course and great instructor
★★★★★
"
I attended the training batch in March and the sessions were very informative and Mr. Suhas Vaze is a very good instructor.
"
- Amit Vishvanath (Nova Scotia, CANADA)
Very Helpful Training...
★★★★★
"
It is very well organized training in terms of training content and hands-on work. It is very helpful in learning some major conceptual , Functional and Navigational changes which has come in Oracle Fusion Financial. Kudos to Suhas!!
"
- Mukesh Singh Bhati ( (Pennsylvania, USA)
Oracle Cloud Training
★★★★★
"
Excellent training and excellent instructor. Its an excellent training to quickly move from EBS to Cloud.
"
- Nasir Kazmi (Ontario, CANADA)
Awesome Platform to Learn Fusion
★★★★★
"
Its an awesome platform to learn Oracle Fusion. The sessions are very informative and interactive.I have taken fusion classes recently and it was really very structured and organized in such a way that you need not to worry for anything. Just devote yourself to the sessions, follow the instructions, do the hands-on with trainer and your work is done.The head of the institution cum trainer CA Suhas Vaze is a well know ERP trainer and an author for oracle EBS and Fusion book set. He is very calm person and always available to answer any queries/doubts.
"
- Awadh Jaiswal (Banglore, INDIA)
Amazing Oracle Cloud Course
★★★★★
"
This is the right course for you to start with Oracle ERP Cloud / Fusion, using the latest Oracle ERP cloud instance version. Mr.Suhas Vaze is a very good trainer, with large functional and technical Oracle knowledge. He is very patient and answer every single question. Further more a set of books prepared by Mr.Suhas can be purchased, it may help to improve and reinforce Oracle ERP knowledge. I highly recommend this courses content and the teacher Mr.Suhas Vaze.
"
- Nabil Chelihi (Montreal, CANADA)
Exceptional training
★★★★★
"
It was wonderful training on oracle fusion. Suhas answered all the questions and doubt we had.
"
Fusion Financials Fundamental
★★★★★
"
Very good coverage of all the essential aspect of Fusion Financials. Suhas was very patient and there was not a single question that wasn't answered.
"
- Kailasam IYER (Pennsylvania, USA)
Oracle EBS to Cloud
★★★★★
"
I wouldn't call this training, it is the best career support anyone could ever get, migrating from EBS to Cloud functionality never thought that it could be done in short time, all credit to Suhas Sir for excellent well organized training sessions, get a feeling to continue to learn, to top it off, Oracle Cloud functional knowledge with the accounting examples under financials was really great to watch, glad that I chose Suhas Sir and Oracle ERP guide.com for my career enhancements. My Best Wishes to Suhas Sir and the support team.
"
- Raja Bodapati (Massachusetts, USA)
Oracle Fusion Training Review
★★★★★
"
I Attended the first batch of Oracle Fusion Training by Suhas. Suhas is the best trainer I have come across so far. He has extensive knowledge about the Oracle ERP(Both EBS and Fusion applications) It was my pleasure to attend this trainig. Cost is reasonable and instance access is also provided during the training.
"
Oracle Financials Cloud
★★★★★
"
It was privilege to get trained under Suhas Sir. His teaching and explaining skills are outstanding. He targeted the key areas in Oracle Financials cloud and helped us to clear to the doubts.Higly recommended training if someone is looking for Oracle Financials Cloud training.
"
- Satamanyu Mishra (Dublin, IRELAND)
Suhas ji training was beneficial
★★★★★
"
The tutor is SME in accounting. He is a good trainer. I really enjoyed his s training. Give him 5 stars. Trainer is not merely a trainer. He is the one who has worked in the professional capacity as a subject matter expert in the financials field. The course was very well designed.
"
"
Learned financial fusion concepts without hunting for information to perform a financial analyst job function About Suhas very patient at answering obvious questions
"
- Vishwa Mohan (New Jersey, USA)
"
Oracle Cloud Financials online documentation is good, but an expert can show you the core of what you need to know without being sidetracked by the less important areas. Suhas is an expert who is also a great communicator. We covered the syllabus as described plus Suhas answered questions that course participants had with real insight and experience. Technical support was good, such as sorting out my access to the Excel Smart View plugin when I didn't have access to Oracle Support Network. Recommended.
"
"
Training provided is very good. I really like the way Suhas sir has presented the training and explained in detailed. Books are really helpful to understand the flow of the module each and every step is explained with screen shots.
"
Oracle ERP Cloud (Fusion) Financials
★★★★★
"
Very well organized and well designed training. Queries were also answered and discussed properly. provides goods hands on and practical knowledge and awareness for implementations, skills requirements, current global trends etc.
"
Outstanding Oracle Fusion Training
★★★★★
"
Suhas sir's Online Classes are outstanding as he elucidates the content with lucid explanation keeping in mind all the participants who come from diverse geographical regions. He's the only person who comprehends all the Fusion Financial concepts and share to his students without further ado...No one becomes second to him when pitching content with a highly calibrated Measure as he covers all the Trivial and Vital concepts in an optimal time..... Suhas vaze sir's great work of Oracle Application is his Scholastic Contribution of EBS-R12 Books and Fusion Financials Book Set... he has brought in all his experience and experience in these master Pieces ... Oracle Financials Consultants consider his EBS-12 & Fusion Book Sets are Bible for Practising Apps.... Kudos to his passion and Verve!! Hareeshwar Nayudu
"
Completed Cloud Financials Fundamentals
★★★★★
"
Completed Cloud Financials Fundamentals and it was really good, Well organized and systematic, Very Interactive and practical approach
"
- Md Mosharraf Ali Raza (Pune, INDIA)
---