---
5 out of 5 stars (based on 28 reviews)
---

---
Registration and Payment
Register and Pay for Fusion Online Training
Total Fees INR 18,000/- (See Payment Schedule below)
Suitable for people who already know Oracle eBusiness Suite R12 Financials
Eligible for CPE Hours
How to Register and Pay for Training
Click "Add to Cart"
Click "View Cart"
Proceed to Checkout (Apply Coupon OFSNEBIRD for INR 1000/- discount if Paying On/Before 22-Apr-20)
---
Fusion Financials Training – Apr-2020
Transition your skills rapidly from EBS R12 to FUSION (Oracle Financials Cloud)
Fusion Financials Crash Course in 3 Weekends
4 Hours per Day X 6 Days = 24 Hours
Release 12 and Release 13 (Oracle Fusion Cloud / Oracle Financials Cloud)
Best suited for EBS R12 Consultants seeking immediate knowledge transition to Fusion Financials
Demonstrated Fundamentals on Fusion Instance
Fusion Cloud Release 12/13 Instance given to participants for Hands On as part of course (From First Day to Last Day of Training). Additional 3 Month Access can be procured separately.
Participants can attend missed session (due to participant inability to attend any session), in subsequent batches also.
Training is Eligible for CPE Hours
(Step by Step Training to Fusion Setups and Transaction Flows with Actually executed examples on Fusion Instance)
Training Summary & All Links
Dates and Timings (USA/Canada/India/Europe Friendly)
Apr 2020 ( 28th Apr to 3rd May; Both Days Inclusive )
6 Days X 4 Hours Per Day = 24 Hours
Fees and Payment Schedule
Total Cost: INR 18,000/- Per Participant
Register and Pay to Reserve your Seat
Pay the Amount as per Following Schedule
INR 18,000/- On/Before 26-Apr-20 (Apply Coupon OFSNEBIRD for INR 1000/- discount if Paying On/Before 22-Apr-20)
For USD Payments on PayPal.com, Please pay USD 300/- if paying On/Before 22-Apr-20 (Else Pay USD 315/-)
---

---
Content Summary
Fusion General Ledger Fundamentals
Fusion Payables Fundamentals
Fusion Receivables Fundamentals
Fusion Assets Fundamentals
Fusion Cash Management Fundamentals
Fusion Hyperion Reporting Studio Fundamentals
Fusion Hyperion Smartview Fundamentals
Fusion FBDI – File Based Data Import – Fundamentals
Fusion OTBI – Oracle Transactional Business Intelligence – Fundamentals
Fusion ADF-DI – Application Developer Foundation – Desktop Integrator – Fundamentals
Training Batch Brochure
Download Training Batch Brochure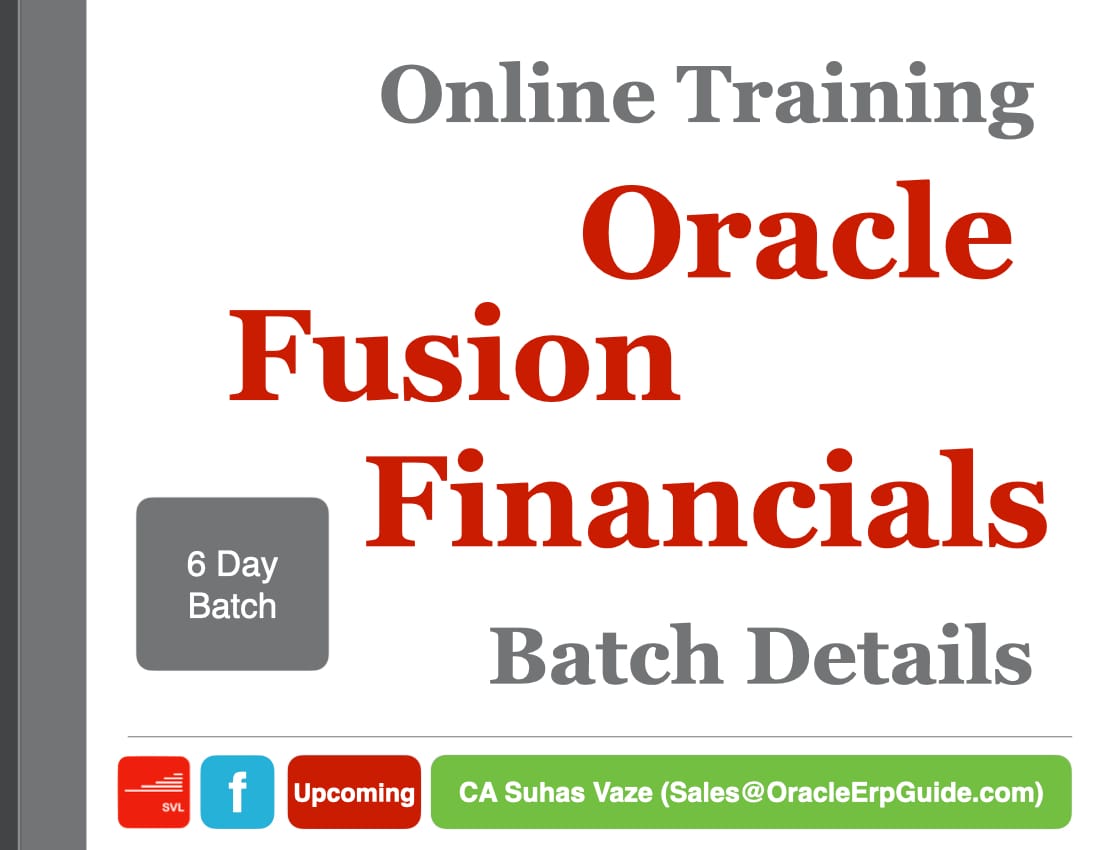 Chapters/Topics Covered in Training
Download Chapters/Topics covered in Training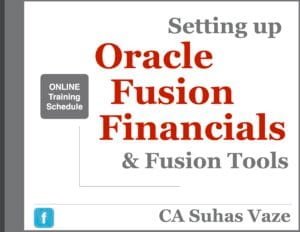 ---
---
---
Write a Review (Fusion Online Training)
(Scroll down to see existing Reviews)
---
Reviews and Ratings (Fusion Online Training)
Exceptional Cloud Training!!!
I have recently attended Cloud training program. It is well designed, informative and very effective for consultants like me, who have already worked on prior release of EBS. Suhas was able to point out the differences between EBS and Cloud release with respect to each financial modules. Training covered implementation steps, out of box functionality in terms of standard processes for each of finance modules, security, and reporting tools available with Cloud. Training sessions provides enough time to do hands on to get comfortable with Cloud release. I will certainly recommend this course to those individuals who have already worked on prior release of EBS and would like to get familiar with Cloud release. Suhas: Thank you for making it so unique and memorable learning experience!!
Oracle EBS to Cloud
I wouldn't call this training, it is the best career support anyone could ever get, migrating from EBS to Cloud functionality never thought that it could be done in short time, all credit to Suhas Sir for excellent well organized training sessions, get a feeling to continue to learn, to top it off, Oracle Cloud functional knowledge with the accounting examples under financials was really great to watch, glad that I chose Suhas Sir and Oracle ERP guide.com for my career enhancements. My Best Wishes to Suhas Sir and the support team.
Your Fusion Financials Cloud journey should start here
Suhas provides an excellent, focused and very informative training on how to get into the fusion financial modules and Tools as well and get a grasp of the knowledge required to configure and start using the modules/integrations in a short period of time, Thanks
Excellent kick start Fusion Financials course
Very precise and highlights the key points for experienced EBS to switch to Fusion and take it forward
Completed Cloud Financials Fundamentals
Completed Cloud Financials Fundamentals and it was really good, Well organized and systematic, Very Interactive and practical approach
Useful Training
Oracle Cloud Financials online documentation is good, but an expert can show you the core of what you need to know without being sidetracked by the less important areas. Suhas is an expert who is also a great communicator. We covered the syllabus as described plus Suhas answered questions that course participants had with real insight and experience. Technical support was good, such as sorting out my access to the Excel Smart View plugin when I didn't have access to Oracle Support Network. Recommended.
Exceptional training
It was wonderful training on oracle fusion. Suhas answered all the questions and doubt we had.
Fusion Financials Fundamental
Very good coverage of all the essential aspect of Fusion Financials. Suhas was very patient and there was not a single question that wasn't answered.
Fusion Training
I took the training the Fusion financials training. His classes are very organized. His grasp on the topics is very detail. His goal of making sure we understand and getting constant frequently is much appreciated . He focuses on the topic in hand very deftly and is well prepared with videos thus you can never derail and was worth the time. Ace tutor and ERP person.
Excellent Training
The training program is well designed and very effective for those, who have already worked on prior release of EBS. Important changes in Fusion are related to navigation, security and tools, which are well covered in training. AR, AP, FA functionality are almost same. New tools set for reporting analysis are covered well
---