4.8 out of 5 stars (based on 24 reviews)
Setting up Oracle Fusion (Rel 13)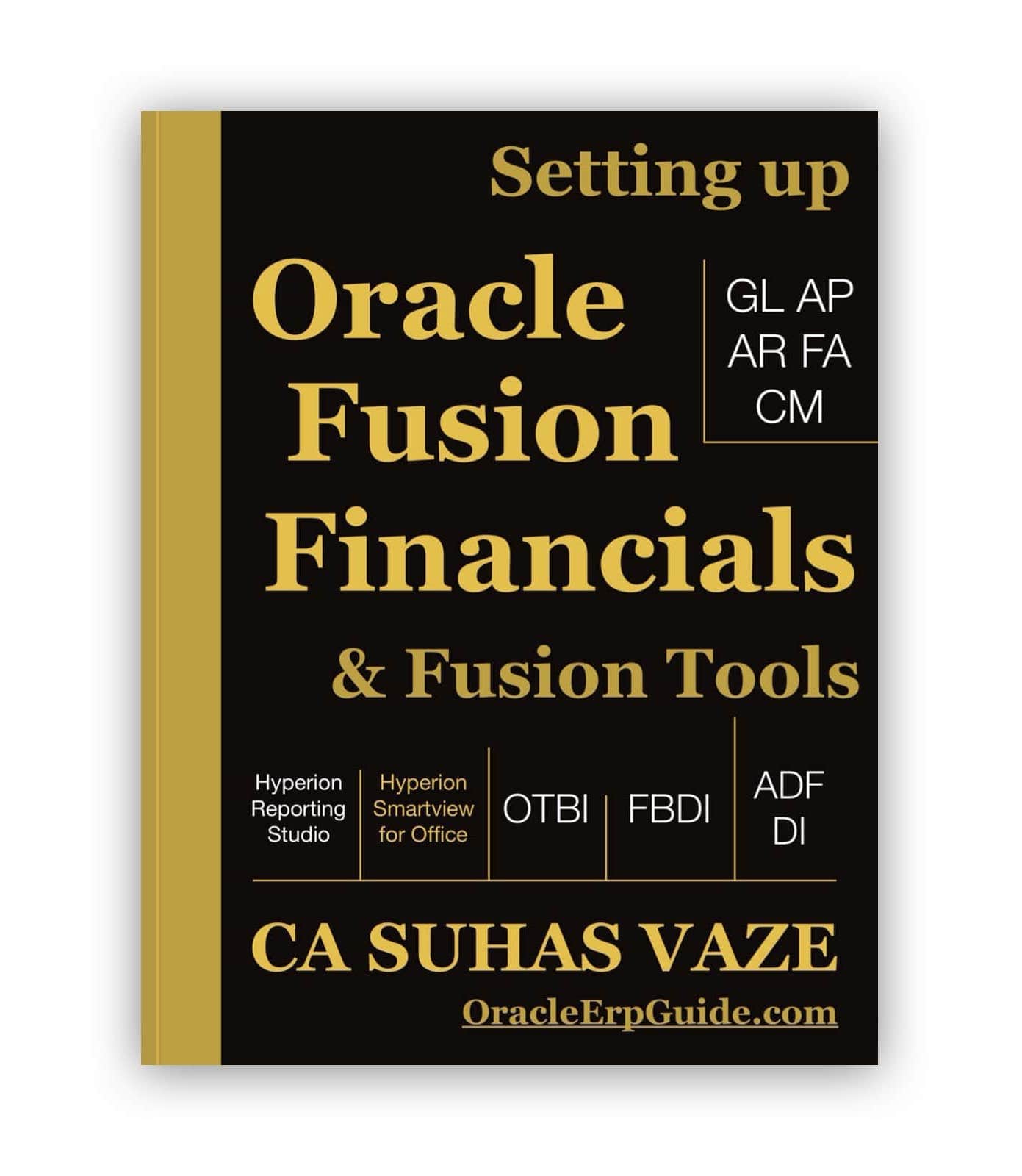 Additional information
| | |
| --- | --- |
| Weight | 1 kg |
| Dimensions | 12 × 9 × 2 in |
| Edition | Premium Hardcover, Full Colour, Black White |
Nice book-A Mirror of Oracle Fusion
An awesome book for Oracle Fusion Financial aspirants. This is just like a mirror reflecting all the setup screen shots and at the same time explaining the concept. Just keep this book on your desk, turn it page by page and start navigating in the sea of Oracle by yourself without any worry. A very helpful book.
AWESOME
This book is really good to start with Fusion, It has every setup related to all Financial modulss, To start up with Fusion its better to have this book but it has all basic setups dont expect every functionality to be included in this book. Its nice deal to have this book with this cost
Amazing Oracle Fusion
This book is amazing and elucidate the Oracle Fusion Financials effectively like Spoon feeding. Kudos to the Author, Mr. Suhas Vaze. Welcome to the Oracle Fusion/Cloud Financials, emerging cloud technology that will shatter around us.
Good Step by Step guide but not suitable for learning concepts
The book provides literally step by step guidance with all screenshots such that even someone who doesn't know what an ERP is can set up the given five modules in Oracle Fusion. In that aspect it is a 5 star. However for the whopping Rs. 12500/- that we pay any one who buys it would expect the concepts to be explained in the book. There are hardly a 1000 words in this entire book, to read, rest all being screenshots. There could have even been another volume explaining the concepts in details. For example, when you populate segment values for cash, cash clearing etc. in the 'common options for payables and procurement' a few lines explaining how the cash clearing works and the accounting entry is created so that the person who configures also understands how it works for the payables end user. Hence honestly I could not provide a five star rating for this book. Yet it is a useful one and no doubt about it
Great Begining to Fusion Financials
This was a really a great book to start with on Fusion to know each and every step to make sure the Fusion Financials work the way you excepted. Good to have some good recipes to enjoy…
Very Useful Book
This book is very useful for all the Oracle Fusion Consultants, it will be a great learning. This helps to setup the system and work on the Instance without any help.
Excellent
Excellent Books with screenshots and detailed explanation
Awesome Books and a great start
I had been referring these books. They are very easy for a noob to understand, step by step procedures are given picture by picture. There isn't any reason for not to understand. The major advantage of images are that you never forget, you can recall. The explanations are given properly wherever required. I have seen so many material, but such detailed training material is second to none, its awesome to have one.In short, they are second to none ! Five Stars from my side !
Very nice book
This is Seshagiri Addanki. This book is a back bone for cloud and must to have.
excellent book
Hi, i have purchased this book,it is more help for me. i have learn all the setups in fusion financials through this book. i thank for the Suhas vaze for the book. Regards, vinay